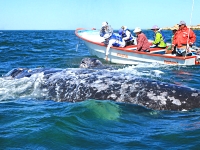 Gray Whale, San Ignacio Lagoon © ryan harvey
The west coast of Mexico's Baja California peninsula is regarded as having some of the best whale watching destinations in the world. Every year between mid-December and March, thousands of California Gray Whales migrate to the protected waters and warm lagoons of the region to mate and calve. The three lagoons on the Pacific Coast that offer the best locations for watching Gray Whales are Magdalena Bay, San Ignacio Lagoon and Scammon's Lagoon. Scammon's Lagoon sees the largest number of these mammals each year, with something like 1,500 whales, including newborn calves, taking refuge in the calm waters. The lagoons are protected marine parks where whale watching is controlled and allowed only in boats operated by trained guides.
Humpback Whales and Blue Whales breed in the Sea of Cortez, and Bahia de Los Angeles is the centre for whale watching expeditions in the area. Although whales can be sighted from shore, particularly from Cabo San Lucas at the southern tip of the peninsula, boat cruises are the most popular way to see them and experienced guides take passengers to where they can be observed up close, without endangering the animals in any way. Equally, whales are peaceful animals despite their enormous size and power, and people can safely get very close to them without fear.